From the All Contacts section you can select contacts and bulk edit them. Bulk edit allows you to add them to a user triggered campaign, set a field, add to a list, and more.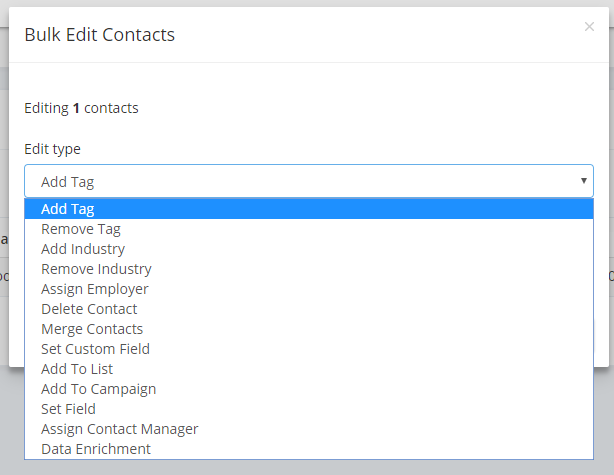 How to Bulk Edit Contacts
Go to Contacts > All Contacts

Select a contact or group of contacts. When you make your first selection the "Bulk Edit" button will appear.

Alternatively, if you have a contact list, or segment of contacts you want to edit, you can select that by pressing the filter button labeled "ALL CONTACTS" shown below - and to the left of the ALL CONTACTS button is a search bar you can type a phrase into (such as part of an email address) to find contacts as well.

Once you have selected your contact(s) either by searching, selecting a list, or selecting a segment, press the BULK EDIT button.

In the popup you can now select the bulk action you want to take, and the corresponding value, list, campaign, etc. you want to do.


In the screenshot above we are choosing to add two contacts to a user triggered campaign.
Hit SUBMIT
Note: Bulk edits are a background process and depending on the action and number of contacts being edited, this can take some time.