Deleting Lists
In FunnelFLARE, a list is just a view of contacts. Deleting a list will not delete the contacts.
Bulk Deleting Contacts
To ensure that you do not inadvertently delete contacts, we have implemented a 2 step process for deleting contacts
Bulk delete the contacts from the all contacts screen
Empty your trash to permanently delete the contacts
Bulk deleting contacts can only be done via the 'All Contacts (Contacts-All Contacts) screen. This can be done by bulk selecting the contacts you want to delete, either by building a temporary contact segment in the all contacts segment builder, or by selecting an existing contact segment or an existing contact list.
Go to All contacts (Contacts-All Contacts)
Click the 'All Contacts' drop down to select your list or segment. Once the list or segment is selected and used to filter the all contacts table, click the checkbox on the top left column

Click the bulk edit button that appears on the toolbar

Select Delete Contact from the dropdown, and click Submit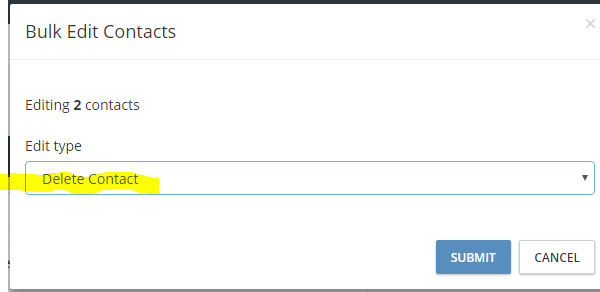 You will be warned about how many contacts you are about to delete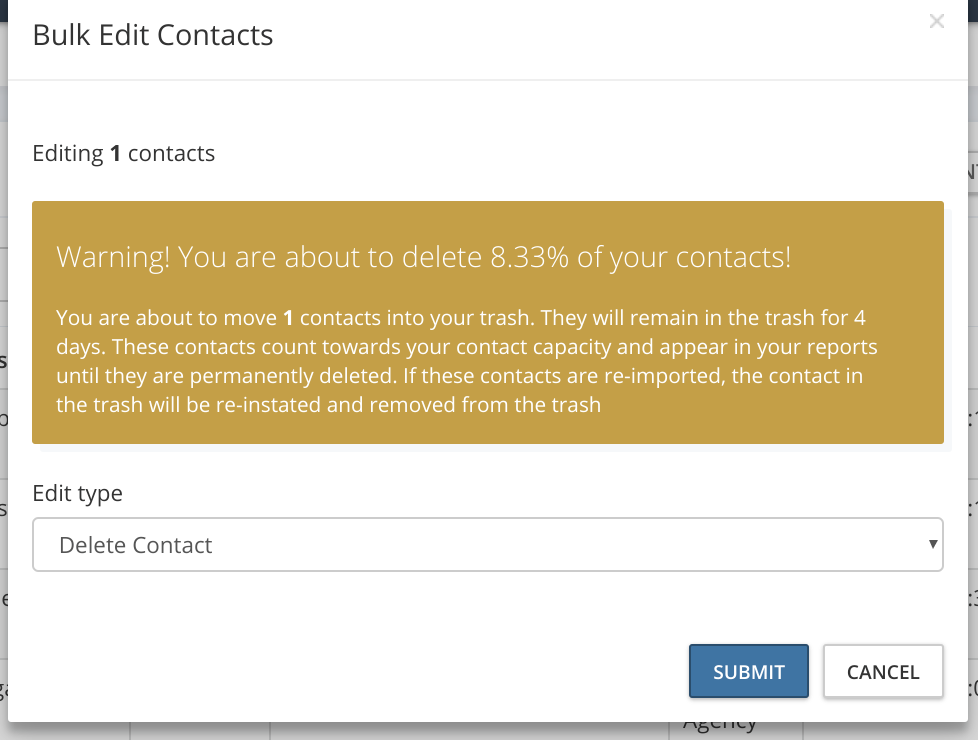 This will create a 'Request to Delete Contacts' that will be moved into your trash.

Delayed Bulk Contact Deletion
The Request To Delete Contacts task will temporarily remain in the trash, then it will be executed and removed from the trash automatically after 4 days.

All contacts associated with this Request To Delete Contacts task will no longer be visible in your all contacts screen, nor will they be processed by campaigns. All contacts associated with this delete contact action will appear in your reports until the task is executed (or deleted by emptying the trash).

If the contact performs any activity (visits the website, fills out a form, clicks a link in an email, etc), the contact will be removed from the scheduled deletion and become visible in your DB again. If you re-import any contact that is associated with this delete task are re-imported, again the contact in the trash will be re-instated and removed from the trash.
Bulk Delete Contacts NOW!
If you want to execute the permanent deletion immediately, empty your trash, or click the 'x' by the request object in your trash