Top Level Menu

The

indicates that there are currently 3 'known' contacts on the website. Clicking the icon reveals the following menu: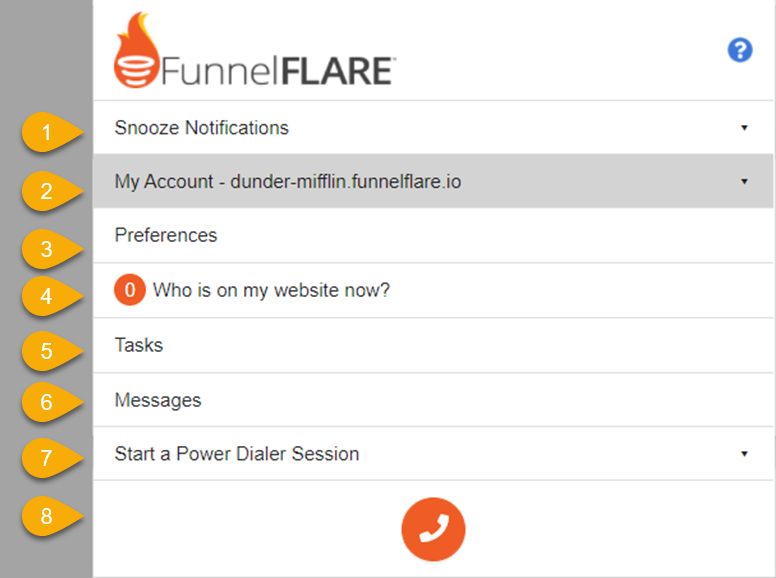 Snooze Notifications: This temporarily disables the browser notifications
My Account: This is a link to your FunnelFLARE account
Preferences: This sets up your FunnelFLARE chrome extension
Who is on my website now?: this gives you a quick view of the known visitors (i.e. not anonymous) on your website (requires the tracking script to be installed on the website)
Tasks: This gives you access to the Tasks for the current user
Messages: This gives you access to the FunnelFLARE SMS messenger interface
Start a Power Dialer Session: This opens the power dialer interface
Simple Dialer: This opens up the simple dialer for a quick call
Preferences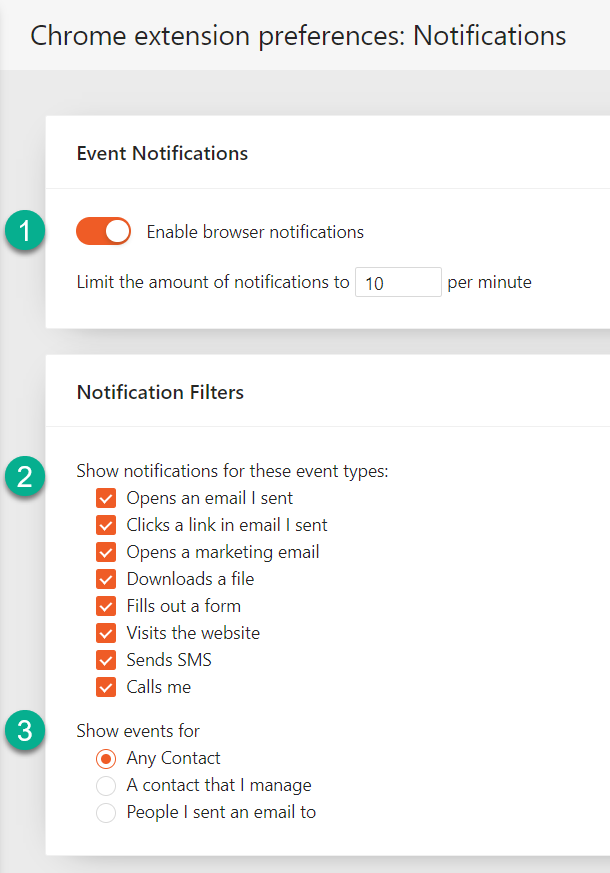 Browse Notifications Control: You can control the volume of browser notifications
control which types of events will generate notifications
Show Notifications For
Any contact: This allows you to see notifications if other salespeople's contacts are engaging on the website
A contact that I manage: Only your contacts will cause browse notifications
People I sent an email to: Only those contacts that you have an email conversation going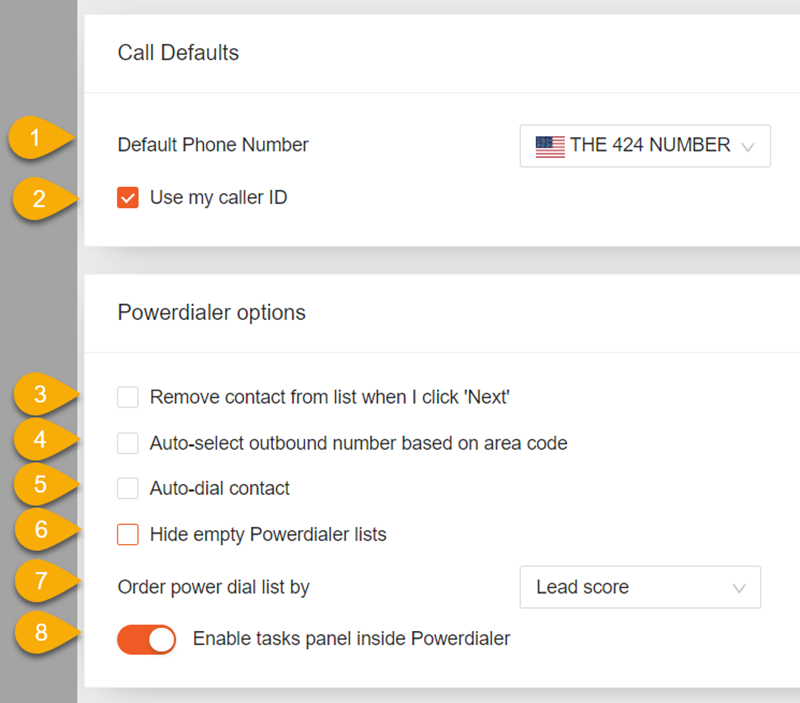 Your default number for outbound calls
Use my caller ID: If you have authenticated a personal number on your profile, this sets the default behavior for calling (i.e. to use or not to use your caller ID
Remove contact from the list after processing: In a power dialer session, if this is checked, the contact that you are leaving is considered 'processed'. If this is checked, when you click 'Next' during a power dialer session, the contact you are leaving is removed from the power dialer list. The contact is not deleted, it is just removed from your power dialer list.
Auto-select outbound number: If you have several outbound phone numbers in your account for different states/provinces, with this checked, FunnelFLARE will try to match the outbound number area code with a number from the same state as the prospect's phone number
Auto-dial contact: If this is checked, if you click 'Next' the first number on the next contact's screen will be dialed automatically.
Hide Empty Powerdialer lists: With this checked, only power dialer lists with contacts will be shown
Order power dial list by: This allows you to set the default ordering of power dial lists
Enable tasks panel in Powerdialer: This allows you to enable/disable the task tab in for power dialer sessions

Enables/Disables the Gmail integration. If disabled, the Gmail integration is not loaded
Sets the default behavior for tracking of emails in Gmail
If you have more than one FF login, you can send emails from within Gmail without switching accounts in the chrome extension. With this option enabled, FF will automatically choose the correct FF account to encode your emails created within Gmail.
Enables/Disables prospect insights within Gmail
Enables/Disables the tasks panel within Gmail
Enables/Disables Outlook online integration (web email client)
Sets the default behavior for tracking emails in Outlook online
Enables/Disables prospect insights within Outlook.com
Enables/Disables tasks panel within Outlook online
Learn More about using FunnelFLARE with Gmail
Learn More about using FunnelFLARE with Outlook.com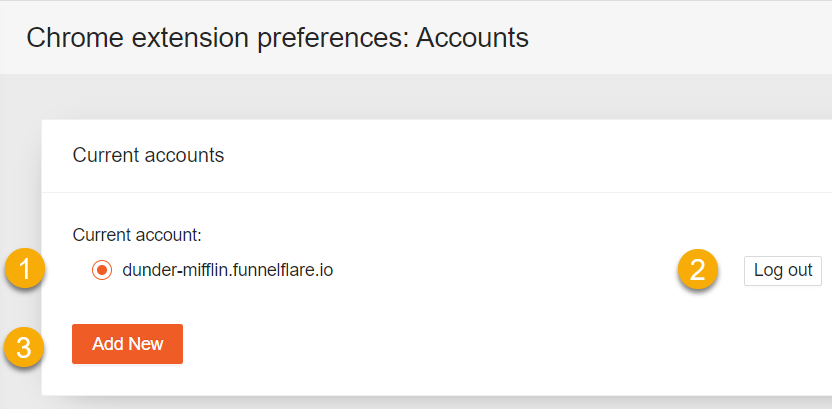 Current account: This is the account that is currently loaded for the chrome extension
Log out: this removes the account from the chrome extension
Add New: This allows you to add a new login to the chrome extension. Each login requires a unique username and password combination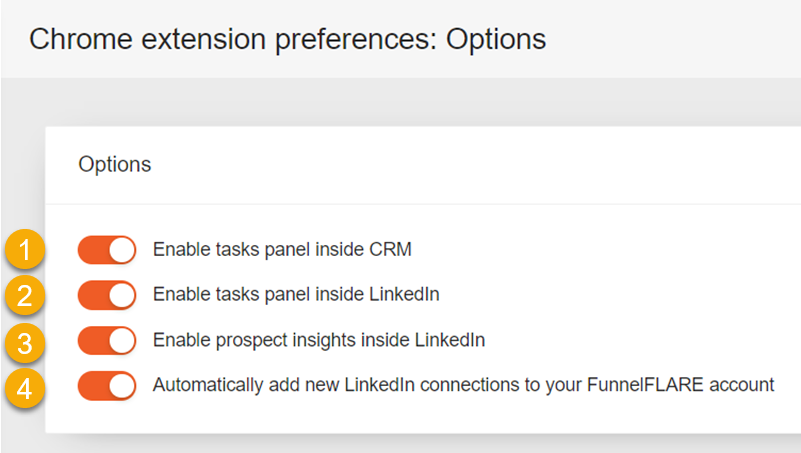 This hides/shows the Tasks panel button within your CRM:
This shows/hides the Tasks panel in LinkedIn
This shows/hides prospect insights in LinkedIn
This automatically adds new LinkedIn connections to your FF account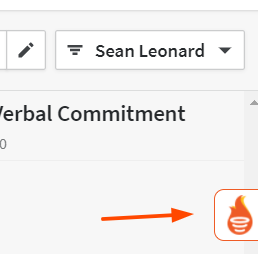 Note: The Tasks button can be moved up and down by dragging the button.
Power Dialer Lists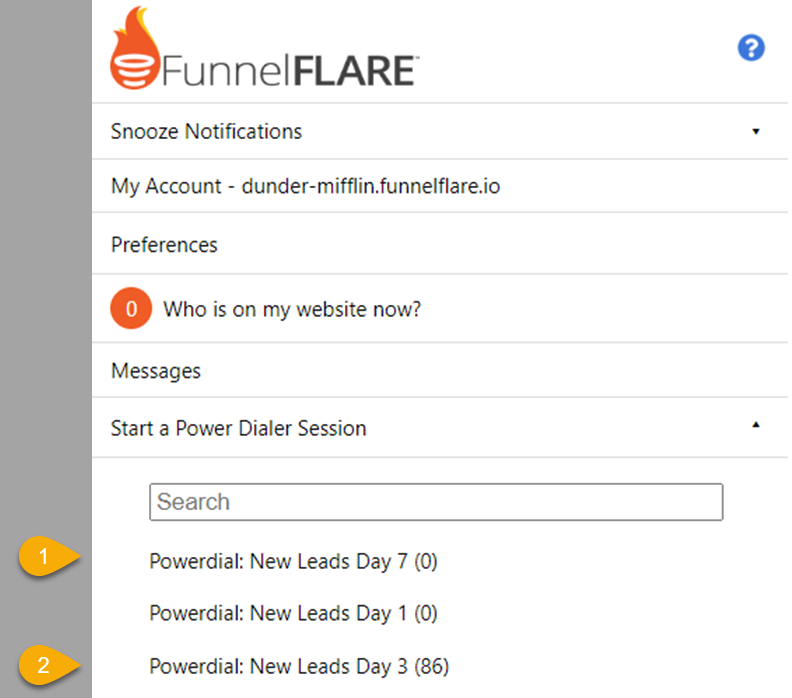 To start a power dialer session you will need to select a power dialer list.
Empty power dialer-list: This list currently has no contacts that are visible to you.
Power dialer-list with contacts: This list has 86 contacts that are visible to you.
Prospect/Account Insights

Prospect Insights
Account Insights
For the CRMs that are supported, the FunnelFLARE chrome extension will inject a (i) badge on contacts/accounts

This badge exposes Prospect/Account insights. If you click this icon you get extra contextual information on the prospect/account. The badge turns green when the prospect is on your website.
Prospect Insights: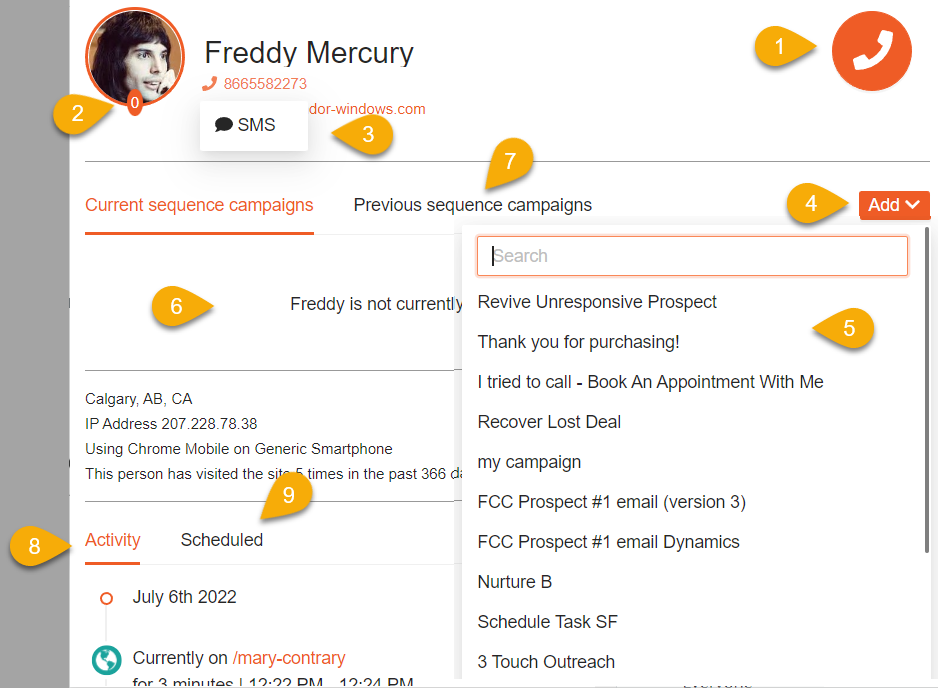 Initiate an outgoing call to a prospect
Lead score
Send an SMS template (hover over the phone number)
Send an Email template (hover over the email address)
Add the prospect to a campaign sequence
The list of sequences the prospect can be entered into
Remove/view the current campaign sequences the prospect is currently in
View the campaign sequences the prospect was in previously in
Prospect activity timeline
Tasks currently scheduled with the Prospect
Account Insights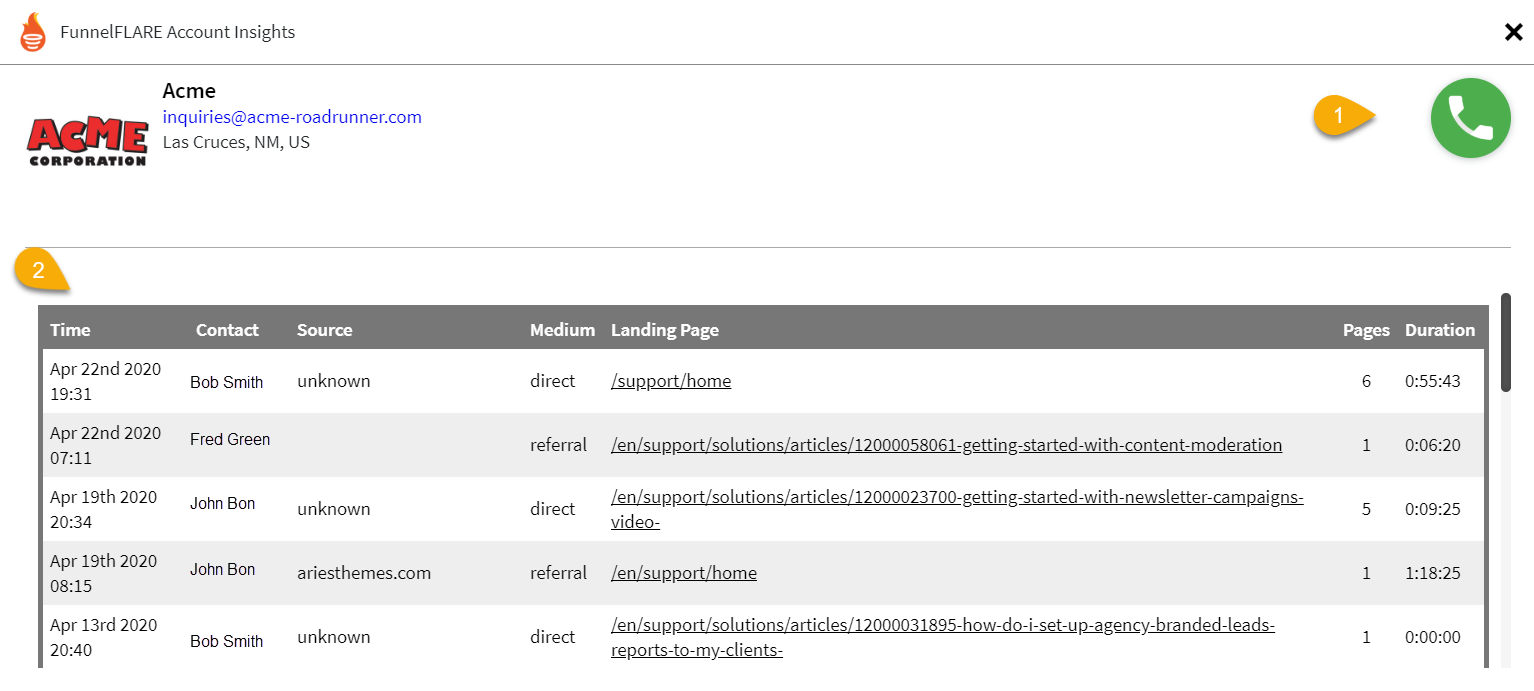 Call the company's main number
Employee's of the company's engagement with the website
Email Template Access
Within your CRM, wherever the FunnelFLARE Chrome extension detects an email address, it will add a template icon in front of the email address.

Access your FunnelFLARE email template
Send an email without a template
If you click the email icon, your email templates will be exposed:

Simple Dialer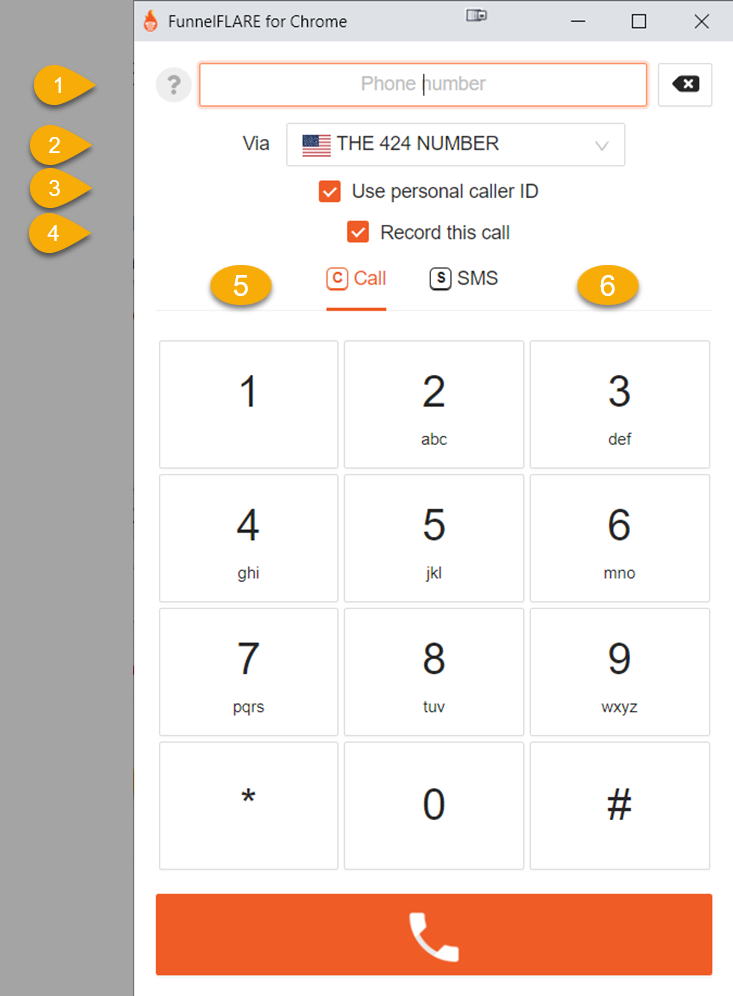 The number you are calling
The number you are using to dial from
If you have your own verified number, this option allows you to 'mask' the caller ID
Record the call (can only be set before the call starts)
Call: Use the Dial Pad
SMS: Use SMS Messaging
During a call:

Personal Templates: This gives you access to your personal templates. Choosing a template will end the call and execute the template
Call end. Clicking this ends the call without executing a template
Mute the call
Learn More about using FunnelFLARE with LinkedIn