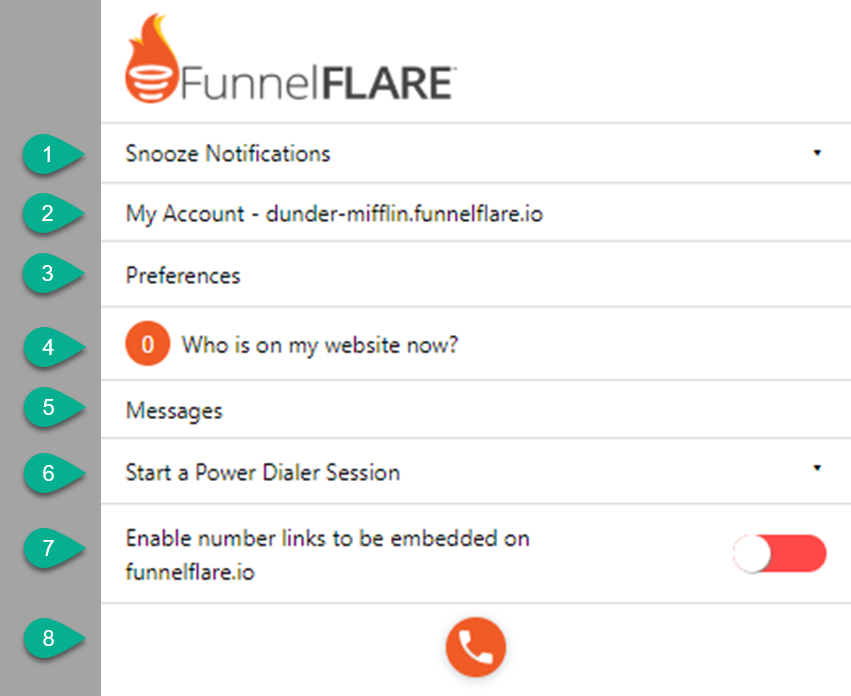 Snooze Notifications:  This temporarily disables the browser notifications
My Account: This is a link to your FunnelFLARE account
Preferences: This sets up your FunnelFLARE chrome extension
Who is on my website now?: this gives you a quick view of the people on your website (requires the tracking script to be installed on the website)
Messages: This gives you access to the FunnelFLARE SMS messenger interface
Start a Power Dialer Session: This opens the power dialer interface
Enable number links: For the webpage, you are currently on, it allows FunnelFLARE to parse the links for click to call
Simple Dialer: This opens up the simple dialer for a quick call
Preferences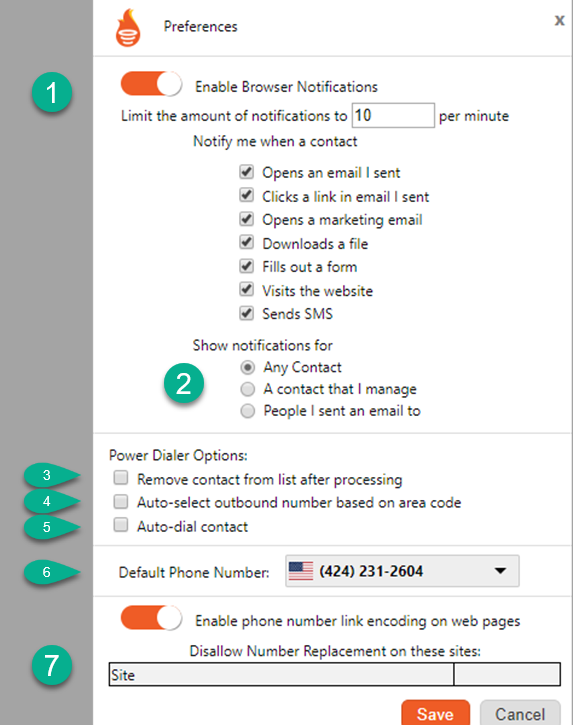 Browse Notifications Control: You can control the volume of browser notifications and what types of notifications you get
Show Notifications For
Any contact: This allows you to see notifications if other sales people's contacts are engaging on the website
A contact that I manage: Only your contacts will cause browse notifications
People I sent an email to: Only those contacts that you have an email conversation going
Remove contact from list after processing: In a power dialer session, if this is checked, the contact that you are leaving is considered 'processed'. If this is checked, when you click 'Next' during a power dialer session, the contact you are leaving is removed from the power dialer list. The contact is not deleted, it is just removed from your power dialer list.
Auto-select outbound number: If you have several outbound phone numbers in your account for different states/provinces, with this checked, FunnelFLARE will try to match the outbound number area code with a number from the same state as the prospect's phone number
Auto-dial contact: If this is checked, if you click 'Next' the first number on the next contact's screen will be dialed automatically.