The power dialer's key purpose is to maximize the number of calls you can make over a given period of time. So how do I get contacts into my power dialer, and how do I use it?
This article will cover exactly how you can get started with FunnelFLARE's power dialer.
Download the FunnelFLARE Chrome Extension to use the Power Dialer
You will need to download the FunnelFLARE chrome extension in order to use the power dialer. Please also be aware that you must have a call tracking number in your FunnelFLARE account in order to start using the power dialer.
Getting a Call Tracking Number
To get a call tracking number, first make sure you have put some funds into your call tracking balance. Go to Administration > Account Billing > Phone Call Tracking Fees to add a credit card and place some funds in your account.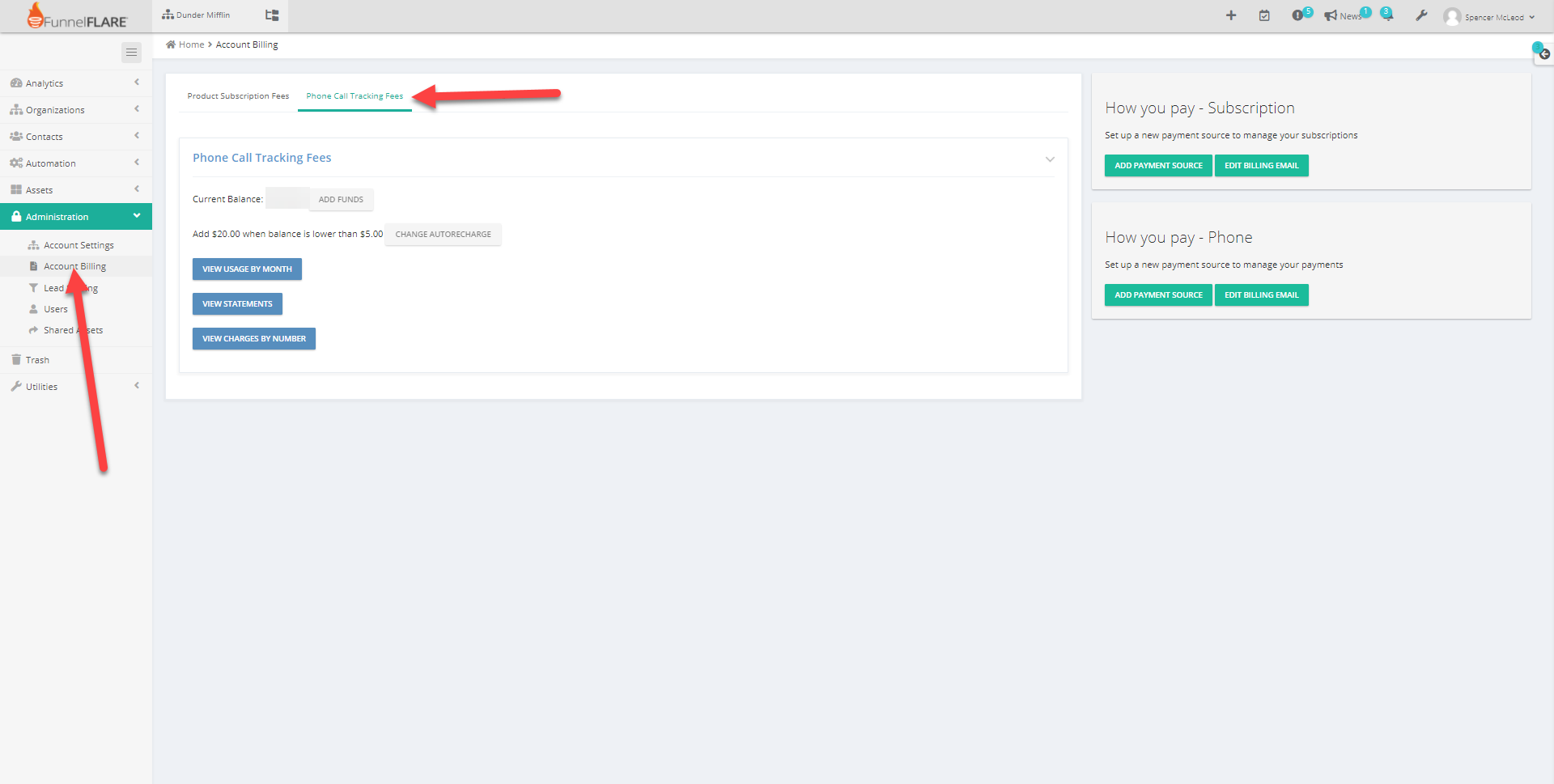 Once you have funds in your Call Tracking Balance, you can now go to Assets > Phone Numbers and search for a call tracking number to add to your account.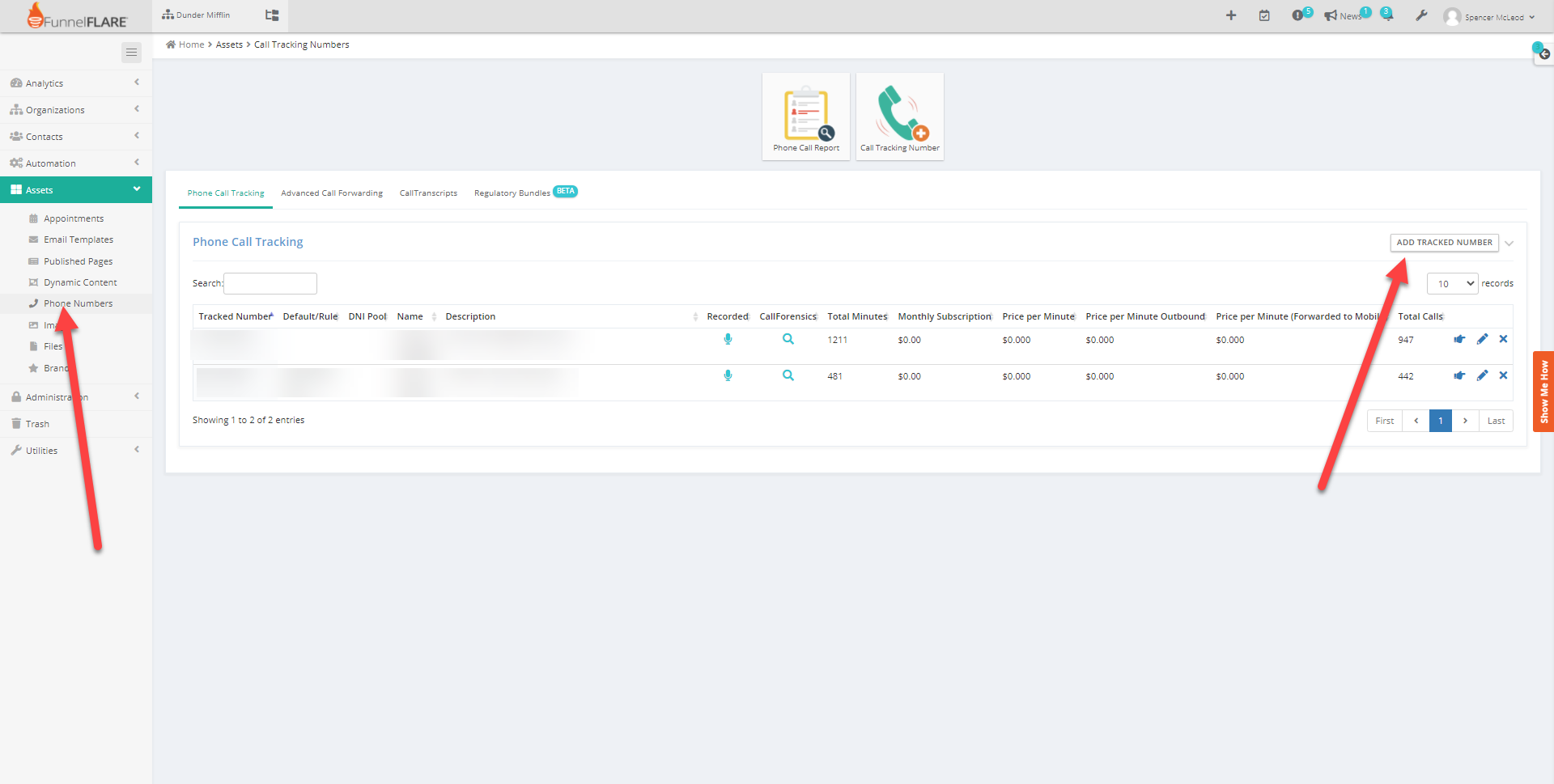 The Power Dialer Requires Power Dialer Lists
The most important thing to keep in mind with the Power Dialer is that it requires a list of contacts to call, and that list must be designated as 'This is a Power Dialer List'.

Out of the box, FunnelFLARE comes with two default Power Dialer Lists: "Three Touch List" & "Powerdial"
Pay attention to how many lists you have, and specifically how many are designated as power dialer lists. This can lead to a mess of lists when you try to start your session and every contact list you have is set to be a power dialer list when it does not need to be.
For organizational purposes, only designate the lists you intend to use for calls as a power dialer list. This will keep your power dialer list options in the chrome extension clean and easy to navigate.
Adding & Removing Contacts from the Power Dialer Lists
FunnelFLARE has two campaigns (or automations) prebuilt to easily add and remove people from your powerdialer lists.
The "Powerdial" list uses the 'Power Dial List Management' automation, while the 'Three Touch List' uses the 'Three Touch Outreach' automation.
How you add and remove contacts from these lists depends on the campaign you are using.
This article will discuss using the 'Power Dial List Management' campaign.
Please read this post about the Three Touch Outreach sequence if you wish to use that instead.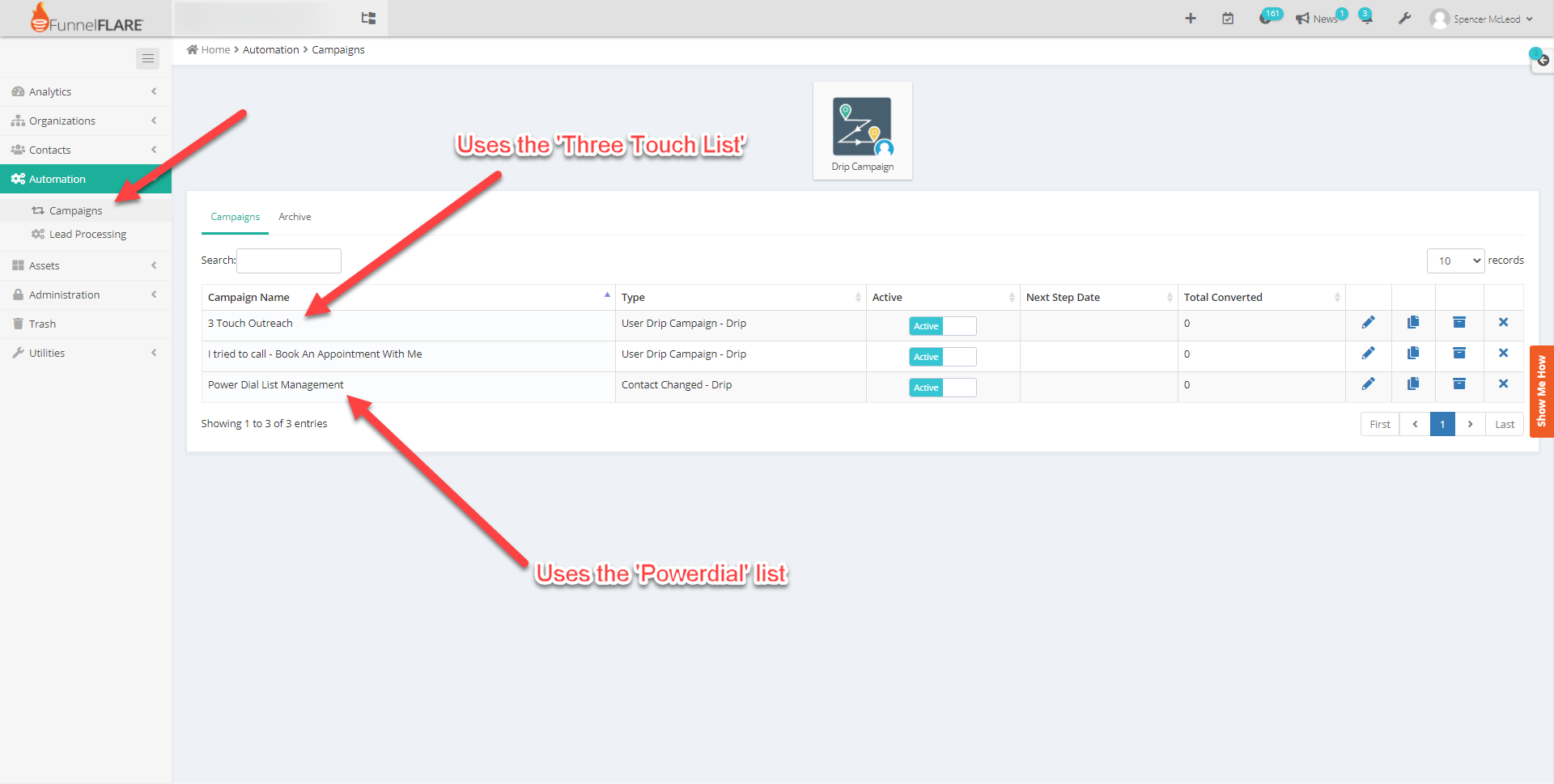 Adding/Removing Contacts using the 'Power Dial List Management' campaign
This automation looks for a custom field to be set for any given contact. The custom field is called 'Powerdial' and it is a simple checkbox. If it is selected, the contact will be added to your 'Powerdial' list, if it is not selected, the contact will be removed.
Below, is the trigger for this campaign. It is looking for any contacts who have this custom field set to 'True', or in other words - the check box is selected.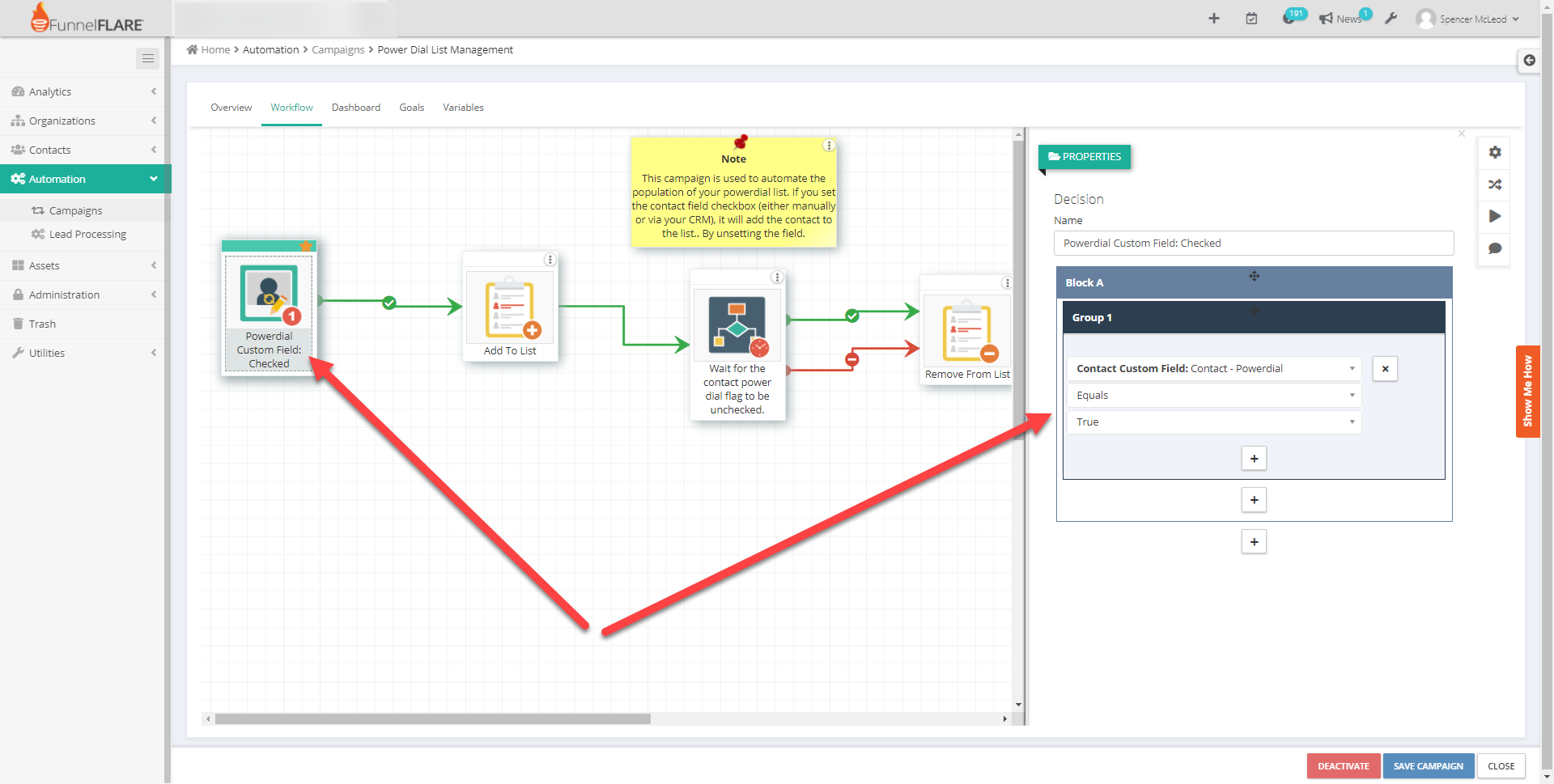 The 'Powerdial' custom field can be located on any contact profile in the custom field section: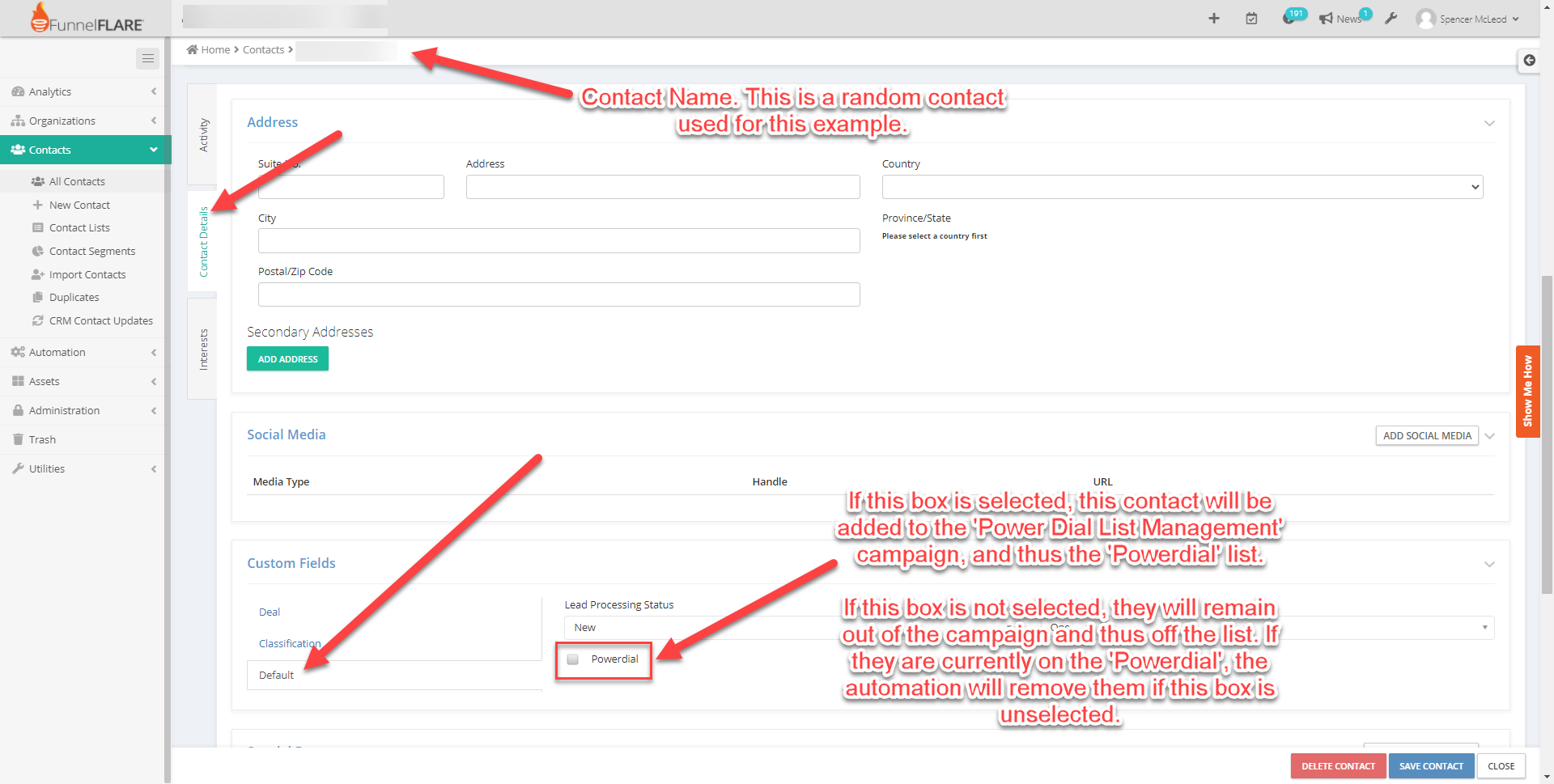 Adding a single contact to the 'Powerdial' list
To add a single contact to your 'Powerdial' list, open the contact profile from Contacts > All Contacts. Then locate the 'Powerdial' checkbox under the Custom Fields section and select it. Once selected, save the contact. See screenshot above.
Adding multiple contacts to the 'Powerdial' list
Navigate to Contacts > All Contacts. Select your contact list or segment from the dropdown if you have a full list or segment to add.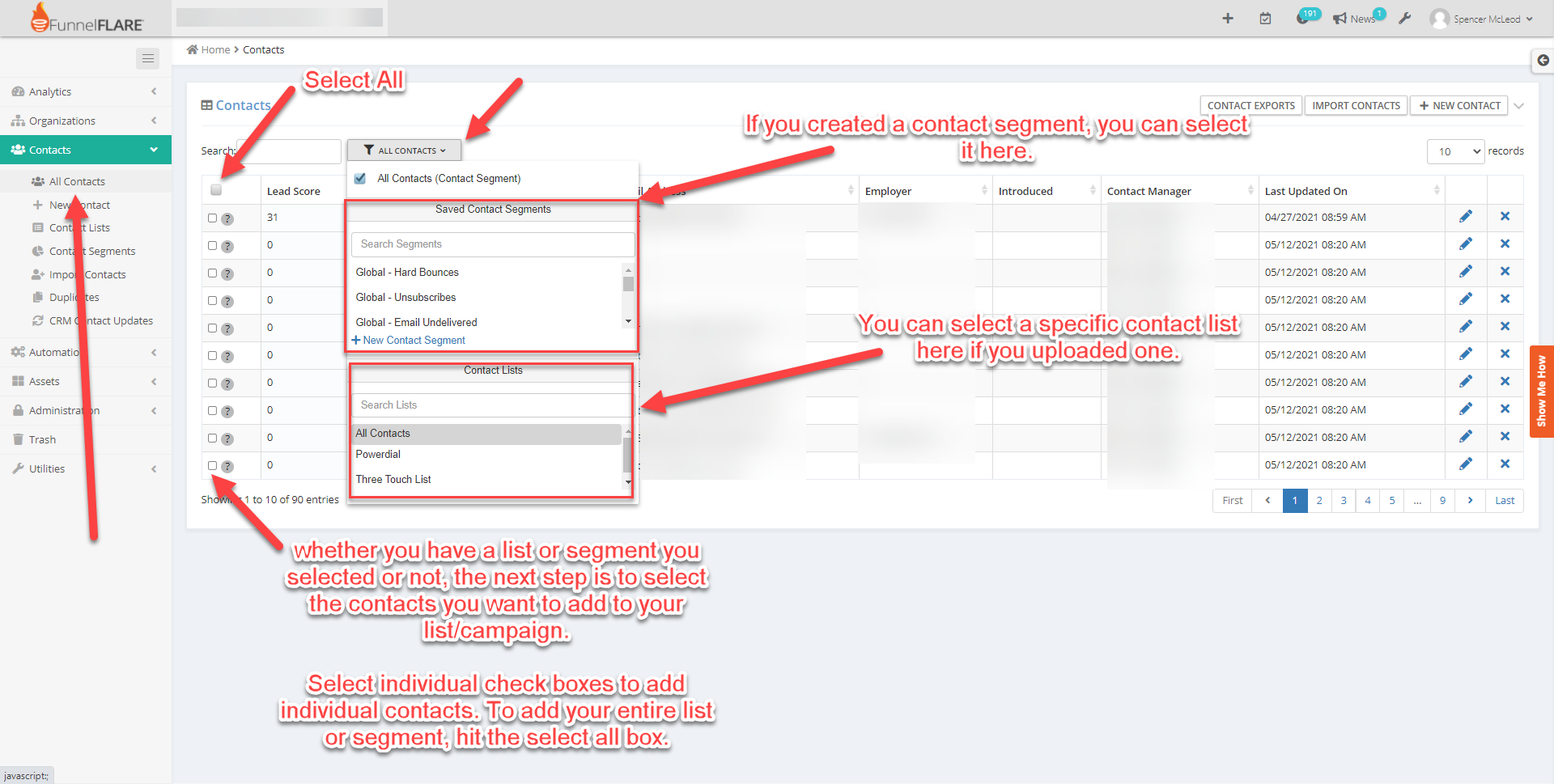 Once you make a selection of at least one contact, you will then see the 'Bulk Edit' button appear. Hit the 'Bulk Edit' button after you have selected your contacts.
In the 'Bulk Edit Contacts' popup, select the options as shown below: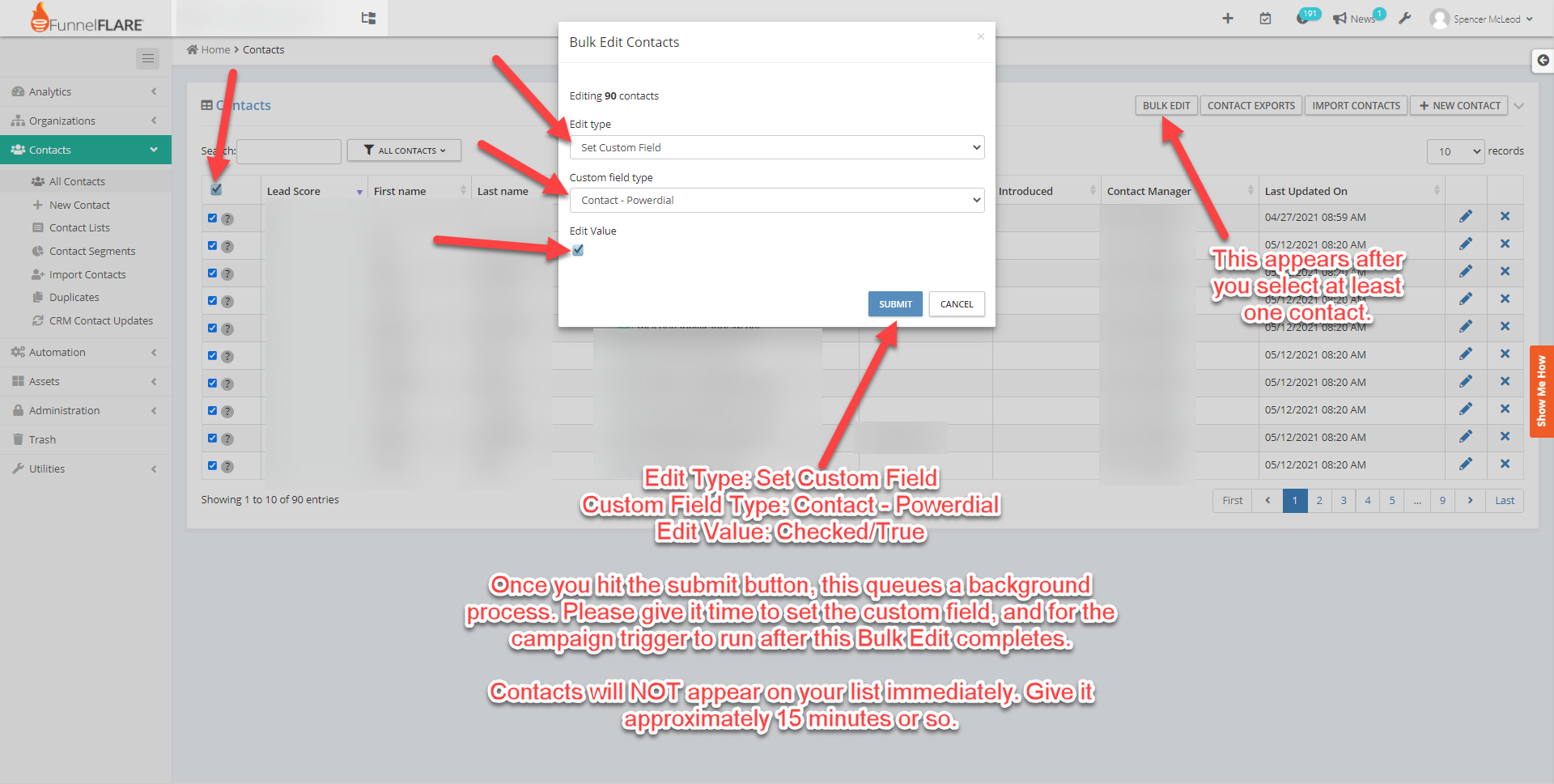 Removing Contacts From the 'Powerdial' list
When you start a Powerdialer session using your 'Powerdial' list, you will see a similar screen to the one shown below.
Once you have called the contact, simply unselect the 'Powerdial' check box and move on to the next contact. The 'Power Dial List Management' campaign will handle removing the contact from your list: